Purple BBQ T-Shirt Barbecue Barbeque Lilac TShirt Piggy
Lilac  TShirt, with adorable pink pig for the BBQ lover. Guys and girls can rock this shirt. These awesome TShirts were made for our special KCBS Hogging Up BBQ & Music Festival  here on the East Coast. Out of thousands, we only have a little bit left and very few in blue!  Available now for a reduced special rate.  
Comfy cotton, three color front (pink, light pink and black) and one color back (black--with sponsor names) complete with barbecue utensils are a cute gift for anyone who loves to grill.
Shirt Details:  This style varies from a Preshrunk Ultra Cotton to a Dry Cotton/Poly Blend so either way, you get a heavy duty tshirt made to last that won't shrink much under normal care.  Stitched well.  Unisex.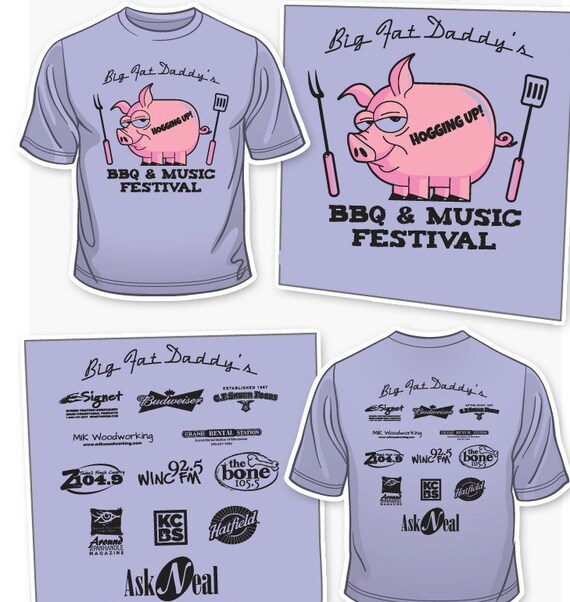 Fit: Fits comfy.
Made in USA:   Designed & Screen Printed in the USA, (although the garment may be from another country all design work is done here!)
Care Instructions:  With all t-shirts we suggest machine wash cold and hang dry or fluff for optimum life. Manufacturer's care instructions will be for the garment PRIOR to screenprinting.
Special Notes:  This is a clearance product, no returns.  If the shirt is laying flat, this is the manufacturer's specifications. 
length  x  width
L    29  x   20  
XL 30   x  22 
2X  31 x   24
5X unspecified
length
(shoulder seam at collar to bottom hem)
width
(armhole to armhole across chest)